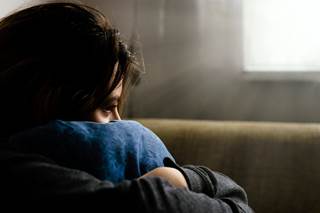 Each additional 365 days spent with depression, either consecutive or accumulated intermittently, increased mortality risk by 72%.
Quantifying depression as a cumulative rather than binary exposure may provide a better indication of the clinical benefit of enhanced depression treatment protocols delivered in routine HIV care settings, according to a study recently published in Clinical Infectious Diseases.1
Affecting more women (30% to 60%) than men, depression is the most common psychiatric comorbidity in people living with HIV.2 In addition, a strong association between depression and mortality is seen, particularly in women living with HIV (WLWH). Studies have shown that depression more than tripled the rate of all-cause mortality in WLWH.3 Furthermore, women with chronic depressive symptoms have shown a 70% greater risk for AIDS-related mortality over 7.5 years compared with women with no depressive symptoms.4
Prior studies examining the depression and mortality relationship used a binary (yes/no) or categorical (chronic, intermittent, etc.) measure to characterize depression. However, since depression is a chronic and cyclical condition, its effect on mortality is unlikely to be captured realistically by a dichotomous representation. Therefore, this study explored the dose-response relationship between the cumulative burden of depression and all-cause mortality in WLWH.
Data from the Women's Interagency HIV Study (WIHS), a cohort of WLWH recruited from 6 US cities, was used. This analysis was limited to the first 3 enrollment phases (1994-1995, 2001-2011, and 2011-2012). WIHS participants completed interviews at semi-annual visits to assess a range of sociodemographic and clinical characteristics, medication utilization history, and self-reported disease symptom severity. Analysis began with the participants' first visit and continued for a maximum of 10 visits (approximately 5 years) or until death or failure to follow-up (2 consecutive missed visits). Women who were prevalent users of antiretroviral therapy at their first visit were excluded in order to mitigate survivor bias.
The study's interest was cumulative days with depression (CDWD), which is the running sum of accumulated days with depression experienced either consecutively or over intermittent episodes. CDWD was calculated using participants' semi-annual Center of Epidemiologic Studies Depression (CES-D) scores (range: 0-60), a validated instrument for assessing depressive symptoms. An area under this curve approach was used to translate CES-D scores into a time-updated measure of CDWD. The effect of CDWD on all-cause mortality was estimated using marginal structural Cox proportional hazard models.
More time spent depressed, either consecutively or intermittently, was found to increase the hazard of mortality in a dose-response fashion. There were 94 deaths equating to an all-cause mortality rate of 2.9 deaths/100 women-years. At the last observed visit, median CDWD was 435. The probability of survival began to decrease at a faster rate in the highest CDWD category (>365 CDWD) compared with the lower categories at 1 year follow-up (P <.001). Each additional 365 CDWD led to a 72% increase in the hazard of all-cause mortality (hazard ratio 1.72; 95% CI 1.34-2.20).
The study investigators concluded that "more frequent monitoring and enhanced depressiontreatment protocols designed to reduce CDWD may interrupt the accumulation mortality risk among WLWH."
Author: Zahra Masoud
Source: https://www.infectiousdiseaseadvisor.com/hivaids/cumulative-depression-increases-mortality-in-women-with-hiv/article/761680/