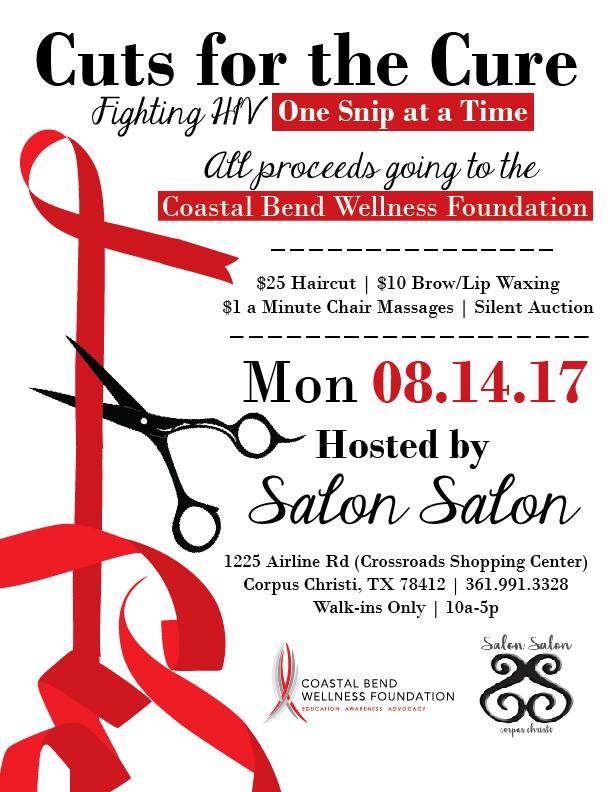 Daniel Villarreal, hairstylist at Salon Salon, and activist for the fight against HIV, has partnered with the Coastal Bend Wellness Foundation in spreading  education and awareness for HIV/AIDS.
Tomorrow, Monday August 14 starting at 10 a.m. at Salon Salon at Airline and McArdle, all haircuts will only be $25, lip/brow wax will be $10, and $1 a minute massage will be taking place, with all the proceeds going to the fight against HIV for the Coastal Bend Wellness Foundation.
Villarreal says this is something that will help people understand what the effects can be when diagnosed with HIV, because once you have this disease then you are more susceptible to other illnesses.
Cecilia Orozco, from the Coastal Bend Wellness Foundation, has said that this is also the kick-off to their Health Centers Week.
Coastal Bend Wellness Foundation also has free testing for HIV and AIDS, by appointment, walk-ins or mobile testing.
For more information, visit www.cbwellness.org
Author: Chelsea Torres
Source: http://www.kristv.com/story/36125310/cuts-for-the-cure-to-fight-hiv