Professor David Cooper, who diagnosed the first case of HIV in Australia and saved the lives of many around the world, has been honoured at a public service in Sydney.
Today's treatment for HIV might not have existed without Professor David Cooper.
He was at ground zero when the Human Immunodeficiency Virus epidemic reached Australia in the early 1980s, and his subsequent research later saw him become a world authority on the virus.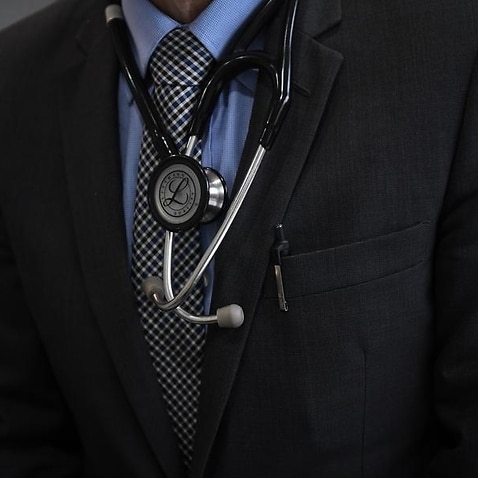 The pioneering clinician, who authored or co-authored over 800 academic papers, passed away in March from a rare auto-inflammatory disease, aged 68. He was the Director of the Kirby Institute at the University of New South Wales for 32 years.
Close friend and former High Court judge Michael Kirby, who was among those to speak at a public service for the researcher at Sydney Town Hall on Thursday, told SBS News Professor Cooper's work saved the lives of people around the world.
"He leaves behind has a tremendous legacy. His work was really world class and cutting edge," former Justice Kirby said.
"Professor Cooper had a big influence not only in Australia, but also in Indonesia, Thailand, Papua New Guinea, countries of the Pacific and countries of Asia.
"He was a real friend to humanity."
Breaking new ground
In the early 1980s, Professor Cooper came across blood samples in the United States from gay men who had been affected by the then-unknown virus.
After returning to Sydney and seeing similar samples surfacing in the city's LGBTIQ+ community, he made finding a cure for HIV and destigmatising it the focus of his work.
Professor Cooper's research helped define the "seroconversion illness" – the stage at which the HIV infection begins to cultivate.
He later helped oversee the trials which led to the discovery of the treatments available today, which saw him subsequently made Officer in the General Division of the Order of Australia (AO) in 2003.
Former Justice Kirby said Professor Cooper was a unique scientist.
"Top scientists, like top professionals everywhere, tend to be very driven by ego and focus. They are not always to be kind and loving.
"David Cooper never forgot he was a physician first and a scientist second."
Jewish roots
Professor Cooper was born in Sydney in 1949 to Annie and Max – a young Jewish couple whose families arrived in Australia via England and Poland respectively.
He began studying medicine at the University of Sydney, aged just 15. By the time of graduation in 1972, he had been already been given first class honours and been published in medical journals.
Jewish observers say Professor Cooper's work typified a concept of Judaism called tikkun olam, or "repairing the world".
He said in 2015 his Jewish background helped him empathise with patients, many of whom also came from marginalised communities.
"There were a lot of Jewish kids in the medical school. I think that my values were very much formed around these young people whose parents were Holocaust survivors. We were Jews, we were different, and we were persecuted because of that," he told the ABC.
"I saw the same sort of thing in the vulnerable patient populations that we dealt with, such as gay men, injectors or sex workers."
'Always available for everyone'
David Polson was sick and struggling with HIV when he met Professor Cooper in 1990.
Mr Polson told SBS News from the moment they met, Professor Cooper became not only the best doctor he had ever had, but also a dear friend.
"David was an incredible person," Mr Polson said.
"He listened, he was caring. But not only that – he had time for everyone. He always made sure that I was happy with his advice and the treatment he would've liked to have done.
"I had many people, many dear friends, back in the early days of the HIV crisis who were very sick. I asked David if he would see them. He always, always said 'yes'. He never said 'no'.
"He was always available for everyone."
Active until the end
Professor Cooper worked right up to the time of his death, setting up an infectious disease partnership in Myanmar just last year.
Last week he was posthumously appointed a Companion of the Order of Australia in the 2018 Queen's Birthday Honours list.
His colleagues remember him as a leader and mentor.
His patients remember him as not only a doctor, but a friend.
His family – wife Dorrie, and daughters Becky and Ilana – no doubt remember him as a husband and father with a big heart.
Source: https://www.sbs.com.au/news/friend-to-humanity-hiv-research-pioneer-remembered