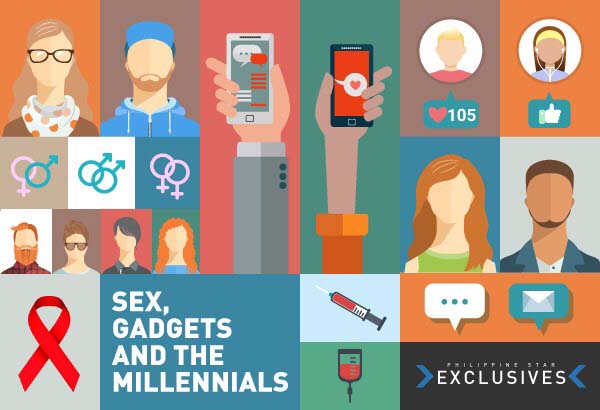 A young woman consulted a medical doctor to avoid getting pregnant as she got intimate with her boyfriend in the early 2000. But the first one – also a woman – would not give her birth control pills or any artificial means to prevent pregnancy.
The female doctor also did not inform her about the possibility of acquiring a sexually transmitted disease (STD) or  HIV/AIDS and instead laid down a calendar in front of her. The doctor said the young woman must know about fertility before and after her menstruation by counting days "if you want something to happen" because being a Catholic, she would like to promote only the rhythm method or the natural means of family planning ­­- possibly a slight to premarital sex that her "patient" was engaging in.
Since the young woman's boyfriend would not agree to use condom because "it does not feel good," she went to another doctor.
This time, the male doctor dropped a pack of pills after asking his "patient" some questions about what she was thinking.
The questions embarrassed her -Â Â as well as the two visits to the doctors in general -Â Â but the young woman took the pills anyway.
For her, the intimacy was part of the getting to know stage although she was not sure whether she was really ready to be married and have children – or get herself heartbroken.
Women her age, anyway, have done it even earlier and more so her gay friends, who openly talked about their sexual exploits even with security guards and construction workers.
Booking it
Fast forward to the current times. It has become similar to booking a ride and a homosexual thinks sexual encounters can happen anytime with apps like Grindr, Blued and Tinder – aside from the social media platforms where people can also link up with people instantly.
Launched in 2009 and updated in 2013, over two million people from 192 countries are active on Grindr, the social networking app for homosexuals and bisexuals, each day, based on reports.
Tinder began in 2012 and two years later, around two billion swipes for a match among heterosexuals were recorded. Facebook now has two billion accounts since it started in 2004.
Technology has cut to the chase the hook ups among people.
In March of this year, the Commission on Population disclosed that various regional studies it conducted through the University of the Philippines Population Institute (UPPI) and Demographic Research and Development Foundation (DRDF) using the data from the 2013 Young Adult Fertility and Sexuality (YAFS 4) study revealed that millennials were engaging in early sex or before 18 years old for variety of reasons.
Access to internet and social media as well as new information technologies were among the most prominent factors facilitating early sexual engagement among young people.
In November last year, the National Youth Commission expressed concern over the rising number of young Filipinos testing positive for HIV, which it described as a worsening "youth epidemic" in the country.
Highest new infections
On Tuesday, HIV surveillance head of the Department of Health-Epidemiology Bureau Genesis Samonte said social media seemed to be playing a role in the soaring cases of HIV/AIDS in the Philippines.Â
"We cannot quantify the effect of social media and the internet but we do know that these (are) mechanisms to find partners increase. It's there and we also know that people, in general, are using social media applications to find romantic partners. But there is no concrete data to say it is the main driver of the epidemic. It's still multifactorial," Samonte explained.Â
Samonte underscored the need to curb the epidemic as the Philippines posted a 140 percent increase in new cases in the past six years.Â
The number of new HIV infections documented by the DOH exceeded the 1,000 mark – the highest since the DOH established the HIV/AIDS Registry in 1984.
Data from the DOH Epidemiology Bureau showed that 1,098 new HIV cases were recorded last May. The figure is 48 percent higher than the 741 cases documented in the same month last year.
Based on a report of the Joint United Nations Program on HIV/AIDS released last week, the Philippines posted the highest increase in new HIV cases in Asia Pacific region over the past six years. Â
The UNAIDS' 2017 report indicates the rate of HIV infection in the Philippines has become the highest in the Asia Pacific region.
That data demonstrates that in 2016, 83 percent of new infections in the Philippines occurred among men who have sex with men (MSM)  and transgender women who have sex with men.
The sharp rise in new HIV infections in the Philippines since 2010 stands in sharp contrast to decreasing or stagnant rates of new infections in other parts of the Asia-Pacific region.
DOH said the country's HIV infection rate grew by 140 percent from 2010 to 2016, with two out of three new HIV infections among 15 to 24-year-old men who have sex with men (MSM).
"We are not talking about those who are openly gay.  But what we are saying is that any male who have sex with another male for whatever reason is at risk of getting HIV.  MSM can be solely just having a male partner, but an MSM can also have both male and female partner," Samonte said. Â
According to DOH Secretary Paulyn Ubial, the Philippines is the fastest in Asia in terms of new infections but in the total numbers of old and new cases "we are still very low" at 44,010 from January 1984 to May 2017.    Â
"We are less than 40,000  over all but we hope to address this by the major strategy  – increasing correct knowledge on HIV transmission.  So by preventing HIV transmission, especially among the risk group (through) abstinence, correct and consistent condom use," she said.Â
The DOH is also advocating that all of those who will test positive for the AIDS virus will undergo anti-retroviral treatment (ART) to curb the epidemic.Â
Based on projections, if condom use and ART will increase from 50 percent and 32 percent in 2016 to 60 percent and 90 percent, respectively, in 2022, there will only be some 7,700 cases by then.Â
UNAIDS country director Zimmbodilion Mosende said while Asia Pacific made "substantial progress in responding to HIV, the region was still lagging behind the global trends.Â
Work on YAFS 4 started in September 2012 and was completed in 2013 with same basic data gathered in previous rounds, the last of which was conducted in 2002.
YAFS 4 expanded its range of topics, including that on the media and new forms of communication technologies that were not yet well developed in 2002 such as social media, cellphone use and cyberbullying.
In the 2010 Philippine census, there were 18,045,895 aged 15 to 24 comprising 19.6 percent of the total population.
Overall, 78 percent of the youth owned a cellular phone and 58.9 percent had been using the internet.
Based on the YAFS 4 data, 80.3 percent reported using the internet for social networking with the highest prevalence in the National Capital Region at 88 percent.
The YAFS 4 survey also elicited information on a number of other sexual activities, which if unprotected, could pose a high risk for unplanned pregnancy and STDs, including HIV. These are commercial sex (paying for sex and being paid in exchange for sex), casual sex, having a non-romantic regular sexual relationship and extramarital sex.
At the time, there was low prevalence of these other sexual activities although the study said "it is still a cause for concern as most young people engage in these activities without protection against the risk of unintended pregnancy and contracting" STDs.
"For example, among the youth who have ever paid for sex, only 27.3 percent reported use of a condom every time they paid for sex in the past 12 months before the survey. Of those with casual sex experience, only 18 percent used a condom the last time they had casual sex," the study noted.
Where then do the gaps lie between a young person having sex and getting educated about it to avoid the repercussions of unprotected encounters? Apparently, not everyone who surfs the internet for pornographic materials that can lure them into having sex uses the same access to learn about how to be safe from pregnancy and STDs.
There is also no comprehensive sex education for students in the Philippines, a component of the Reproductive Health Law that has also yet to be fully implemented after its passage in 2012.
Proposals to distribute condoms in schools by the NYC and the Department of Health are being met with opposition from various sectors. There are also no more campaigns like True Love Waits, which was launched in 1993 to encourage young people to abstain from sex before marriage.
Lack of guidance?
University of Santo Tomas – Department of Sociology chairperson and professor Josephine Aguilar-Placido expressed belief the family must step up in providing the young people guidance.
Downloading an app for casual sex, for instance, is a conscious effort and thus a person, even the young, must be aware of what he or she is getting into.
Placido explained that among Filipinos, it is in the family where "they discipline, as well as…tolerate you."
"You do not know whether you have to be kind or strict," she said, adding this was the reason why laws were enacted to impose discipline among the people.
With technological developments, Placido noted the role of the mother and father "become secondary because kids nowadays are more exposed to social media rather than personal interaction with their parents."Â
The global nature of social media is also crucial, according to the sociologist.
"Your interaction is extensive. You get to meet not only people here in the Philippines… You are talking about culture of different countries and you know how culture is being practiced in different countries," Placido said.
For most of today's young people, adaptation is the name of the game. "I'd like to assume that their simple philosophy could be: 'If they can do it, why can't I? Why can't we?'" Placido said, citing the power and influence of technology and social media.
"It would likely follow that people (engaging in casual sex) may go wayward…Education may become their last option — or not at all."
"No matter how the family would want (the child) to be morally upright, you are talking of the other people, other groups where the child is exposed. Sometimes, it draws confusion on the part of the child if the dynamics that (he or she) saw at home is farfetched or passé or obsolete (from) what we have right now," the sociologist explained.
Placido maintained, though, that the dynamics could be changed and the effects reversed if these people were guided well.Â
"There is always room for change. It is just that you have to give…show the person, the environment that will make (him or her) change," Placido said.Â
Institutions, like the school, the Church, and the family, can help especially those who have gotten into the habit, but there can be limitations, according to the expert.
"The school can only do so much, because (teachers) cannot go beyond (their) teachings. We, teachers, are supposed to be loco parentis, the second parents. But we can only do so much, even our very own guidance counselors," she said, adding that this is the reason it is best to go back to the family.
"How about the Church? The Church will be number one to say that '(Sex) is very sacred, you shouldn't be doing that unless you are married.'"Â
"The Church is a good machinery, as well, but the Church will tell you, 'Hey, family, do your assignment first. We are just support groups here. We will enhance what you have taught your kids. But if what you told your kid is very weak, it will be very difficult for us to make them understand who God is in their life,'" Placido said.
Government health experts advocate a "treat all" approach, under which anyone who tests positive for HIV will immediately be offered treatment, irrespective of their immune system status. The health department also intends to "scale up" its community-based HIV screening by promoting testing and other services such as risk-reduction and HIV awareness counseling in so-called "high burden areas"—areas with high numbers of new infections.
But amid these official expressions of concern, international group Human Rights Watch said the government continues to delay the rollout of proven low-tech and low-cost interventions that can address the spread of HIV among MSM.
HRW said the government should immediately implement the recommendations from its recent report and remove current official obstacles to condom access and usage as well as ensure that schools include safer sex and HIV prevention education in the curriculum.
"The government should also reactivate harm reduction programs targeting injecting drug use, particularly in Cebu City. Likewise, the government needs to step up its efforts to eliminate stigma and discriminate.
Author: Leo Laparan
Source: http://www.philstar.com/headlines/2017/08/04/1724656/hiv-rise-being-facilitated-technology