Man says he is 'overwhelmed, shocked, elated and humbled' by Civil Aviation Authority's rule change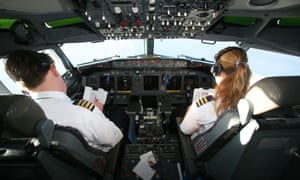 The Civil Aviation Authority has given a man with HIV permission to seek medical approval to become an airline pilot after reversing its previous ban.
The man, known as Andrew, came forward last year to disclose that the CAA had refused to allow him to start training as a pilot for easyJet because he was HIV positive.
He told BBC Scotland he was "overwhelmed, shocked, elated and humbled" to learn the CAA had now reversed its decision, which it said were due to strict European Aviation Safety Agency (Easa) restrictions linked to certain medical conditions.
After deciding to pursue a career as a professional pilot, he wrote to the CAA using a pseudonym about three years ago to ask what its policy was on allowing HIV-positive people to train.
It then said that if he got a medical certificate, he could train but only to fly with a co-pilot. He passed all easyJet's assessments and was put on its training programme, but was then told the CAA would not clear him to fly.
That left him very confused, he said. It left him particularly disheartened because that decision undermined his belief that having HIV was not a barrier to having a career.
He told the BBC. "In 2017, someone who is HIV positive and on successful treatment is medically no different to someone who isn't HIV positive."
The CAA has now reversed that original ban and confirmed that any applicant who passes their class 1 medical assessment for pilots would be allowed to fly. That includes trainees with insulin-treated diabetes or organ transplants.
Andrew Haines, the authority's chief executive, said the CAA prided itself on its "progressive" policies towards pilots with medical needs. It was campaigning for updated rules on HIV-positive applicants and was pressing the Easa to investigate a formal rule change "without delay".
Haines added: "We recognise that this research will take time and we will continue to offer our full support to this work in any way we can. In the meantime, the CAA will issue initial class 1 medical certificates with a restriction to multi-pilot operations to applicants wishing to become commercial pilots, subject to the applicants passing their class 1 medical assessment."
Patrick Grady, a Scottish National party MP who had taken up Andrew's case at Westminster, said: "I'm delighted the CAA has seen sense and my constituent will now be granted his commercial pilot's licence. Nobody should be discriminated against because of their HIV status and this change to CAA rules is long overdue."
Author: Severin Carrell
Source: https://www.theguardian.com/world/2018/jan/18/man-with-hiv-can-train-as-airline-pilot-after-ban-is-reversed