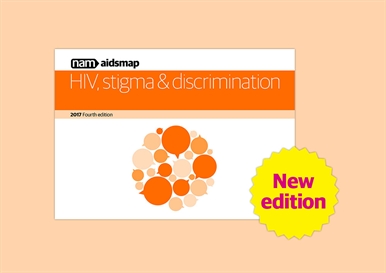 A new edition of our booklet HIV, stigma & discrimination is now available online and in print through our patient information scheme. You can read it online at: www.aidsmap.com/booklets
Stigma and discrimination
Living with HIV now is a very different experience to what it was ten or twenty years ago, and living with HIV in the UK is quite different to living with HIV in some other parts of the world.
We now know that people living with HIV who are on treatment and have an undetectable viral load cannot pass on HIV to their sexual partners and this has had a huge impact on many people's experiences of living with HIV.
However, people living with HIV still experience stigma, discrimination and prejudice.
The HIV, stigma & discrimination booklet
The HIV, stigma & discrimination booklet is for people living with HIV and explains what stigma and discrimination are, makes some suggestions for how to deal with these problems and gives information about your legal rights.
The booklet includes quotes from people living with HIV about their personal experiences of stigma and discrimination, how these experiences have made them feel, and how they've responded. The quotes were collected from feedback to NAM and from The People Living With HIV Stigma Survey UK.
The booklet includes sections on:
NAM's Patient Information Subscription Scheme
UK-based HIV and GUM clinics can order copies of HIV, stigma & discrimination, as well as our other booklets and leaflets in the series The basics, through our online portal as part of their patient information subscription.
To find out if your clinic is registered or for information on joining the scheme, please email info@nam.org.uk or call 020 7837 6988.
Thank you!
Thanks to the people living with HIV and members of our review panel for their assistance in updating and reviewing this booklet. In particular: Alastair Hudson, FPA; Christabel Kunda, NAZ; Robert James; Irina Lut, FPA; Vincent Manning, Catholics for AIDS Prevention and Support. NAM is grateful to Stigma Survey UK for permission to reproduce the quotes used in the booklet.
We are also grateful to Janssen and Wandsworth Oasis for funding towards the production of this resource. Our funders have had no control over the design or content of the booklet.
Author: Amelia Jones
Source: http://www.aidsmap.com/page/3213484/