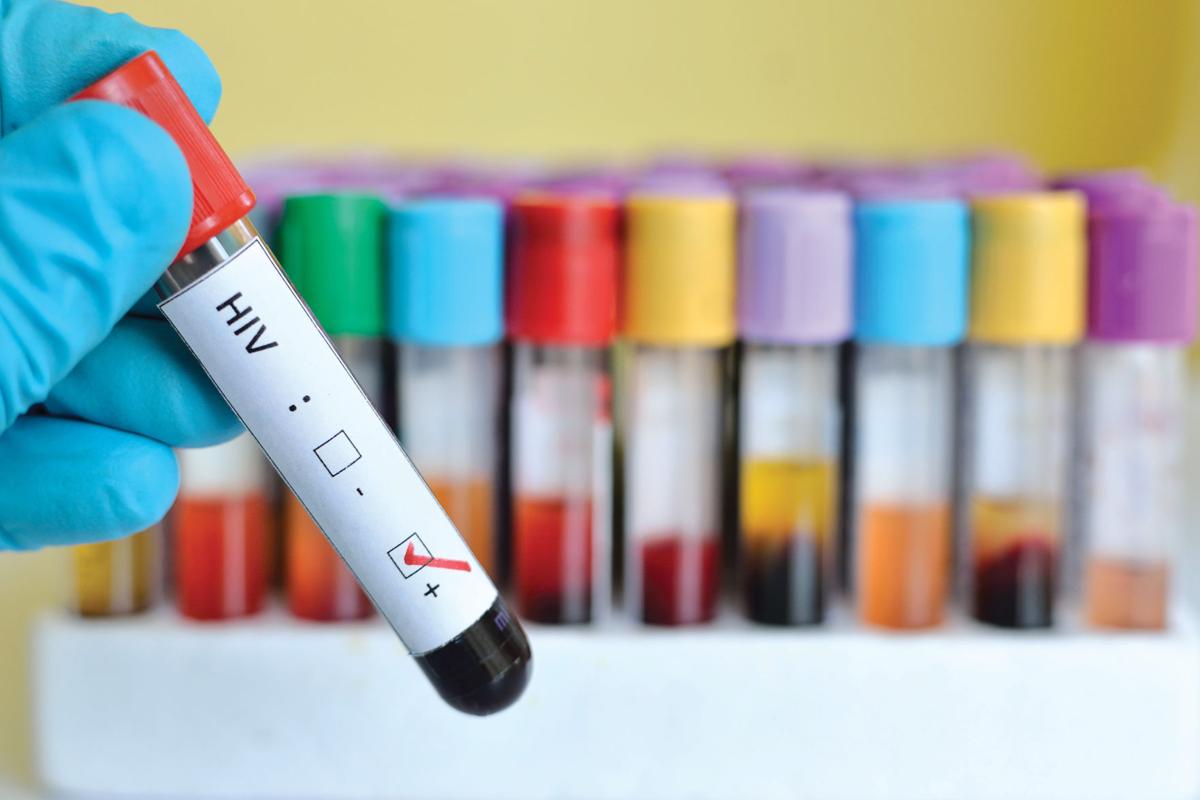 Blood sample with HIV positive
Thirty-four years ago, when the first AIDS case was diagnosed in Yakima County, it was a death sentence.
Today, being diagnosed with HIV — the precursor to AIDS — can still mean a long and active life thanks to advances in medication.
Some 220 Yakima residents know that firsthand.
lives a relatively normal life.
His experience mirrors much of the progress that's been made against the illness. But while the number of AIDS deaths and rates of new HIV diagnoses have dropped dramatically since Yakima County's first two AIDS-related deaths in 1984, some challenges remain.
Today, state and local health officials have five goals: reduce new HIV cases; ensure more people with HIV get the medication they need; lower the mortality rate; assure more people have access to care; and to improve the quality of life for those living with HIV.
In 2014, the year those goals were set in a state proclamation, 442 state residents were diagnosed with HIV. Nine were in Yakima County. The goal is to cut those numbers in half by 2020.
One way local health jurisdictions hope to meet that goal is with a focus on prevention.
Washington was the first state in the country to begin a PrEP — pre-exposure prophylaxis — drug assistance program. Under the program, a non-infected person takes a daily pill combining two anti-retroviral medications — Tenofovir and Emtricitibine — that can prevent them from contracting HIV. When taken regularly it is nearly 100 percent effective.
For those already living with HIV, there are medications that improve health and can reduce the chances of transferring the virus by 96 percent.
Four years ago, about 73 percent of people living with HIV in Yakima County were virally suppressed. Today, that total has risen to around 90 percent.
One local organization helping reach those goals is New Hope Clinic — operated by the Yakima Valley Farm Workers Clinic — which serves HIV-positive patients, regardless of ability to pay or citizenship status.
"It's critical a person is diagnosed early, but also engaged to care and retaining care," said Angeles Pulido, lead nurse at the clinic, which offers individualized care to help patients attain medical stability.
The clinic offers HIV testing to serodiscordant couples — those relationships where one member is HIV-positive and the other is not. The clinic serves nearly 70 such couples.
The clinic also helps patients navigate insurance eligibility and enrollment.
New Hope is helping to lower AIDS-related mortality rates.
In Washington, gay and bisexual men account for roughly 75 percent of all HIV infections and experience rates 100 times greater than heterosexuals. Other at-risk populations are U.S.-born blacks, foreign-born Hispanics and individuals who inject drugs.
Specialists at the clinic use Spanish language public radio station KDNA in Granger to educate listeners about the importance of regular testing, getting treatment and reducing the stigma attached to the virus.
At community events, the clinic has information booths with condoms and pharmacy bags. On April 6, the clinic will be at the WorkSource Farmworker Employment and Resource Fair in Union Gap. They'll also be present at the Toppenish Health Fair on June 3.
Talking about HIV, safe sex and risky behaviors often makes people uncomfortable, but providers stress it's a conversation that needs to happen.
"I think there's a lot of work still to be done, but I think increasingly our providers are aware and are prepared to have those kinds of conversations with their patients," said John Wiesman, the state's Secretary of Health.
Wiesman said the goals set by the 2014 initiative to end AIDS in Washington are possible. To do so, he said, education must continue, the resources must be available and the urgency can't be lost.
Author: Miles Jay Oliver
Source: http://www.yakimaherald.com/news/local/a-generation-ago-the-hiv-virus-was-a-killer-much/article_9ee13ff0-15d8-11e7-a185-5fa9bac21470.html